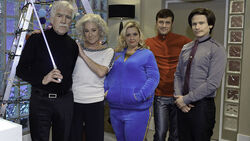 Series 9 -- Episode 10
It is Christmas 2039 and the Harper family are gathering together to share their Christmas memories. Ben is in his eighties and is still as grumpy, Susan hasn't aged a bit thanks to a little moisturiser, Janey has gained more weight and weigh's 20 stone, Michael is bald but his baldness is hidden by a wig he wears, Roger has only got his head left in a glass dome since he got his head chopped off by a lion, and Kenzo, who's now an adult, comes to visit the family. Ben points out that the family have had some of the worst Christmas disasters. One disaster was were when the Harpers played the Greed Gift Exchange Game and had a food fight and the second disaster was when Ben's brother, Richard, came to stay over for Christmas.
Mike Walling as Vicar
Nathaniel Parker as Richard Harper
Sally Bretton as Cheryl
Pascal Langdale as Adult Kenzo
Director - Ed Bye
Producer - John Bartlett
Writer - Tom Anderson & David Cantor
Ad blocker interference detected!
Wikia is a free-to-use site that makes money from advertising. We have a modified experience for viewers using ad blockers

Wikia is not accessible if you've made further modifications. Remove the custom ad blocker rule(s) and the page will load as expected.